Transmission problems are never fun, and if they go too long, they can be quite expensive. Maintaining
transmission service
is the best way to keep your car running smoothly and repair bills down.
Here are some signs that your transmission is in trouble:


If you have a manual transmission, and you find that you are having difficulty getting your car to go into gear, it may be a good idea to get it checked out.

You notice a burning smell. This can indicate that your transmission is overheating.

Leaking transmission fluid is a definite red flag and should be checked out.

Check engine light is on.

Grinding when the car goes into gear (manual) or a "shaking" feeling in an automatic.

Strange sounds. When your car makes an odd sound, it may be hard to pin down what the problem is. In an automatic, it may make an odd humming or whining sound. If your car doesn't sound "right" you are better off getting it checked

Your car "hesitates" or doesn't respond when going into gear. With an automatic, this may translate into difficulty putting it into park or drive.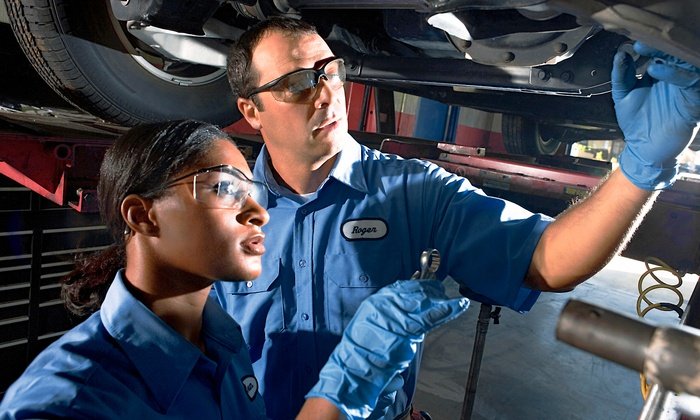 It isn't always easy to know when something is wrong with your vehicle. Regular maintenance that includes a transmission check-up is the best way to catch problems before they start.

Getting transmission problems addressed quickly will save you time, money and hassle. Problems can go from bad to worse quickly, and even be dangerous. It is important to take your vehicle into a licensed, certified repair shop with a good reputation. Even if you are handy with basic automotive repairs, transmissions usually require a professional.
 

Getting service in Portsmouth, VA
Cavalier Ford Chesapeake Square has an extensive parts and service repair shop that can help you keep your car in tip-top shape for years. Outstanding customer service is the goal, as well as quality work. Their experienced mechanics can diagnose and repair problems using cutting-edge technology and quality parts. They are your go-to for all that your car needs.

For added convenience, you can schedule service online, or call them at 888-485-0962
 

Getting to Cavalier Ford
Cavalier Ford Chesapeake Square is conveniently located at 4021 Portsmouth Blvd.Chesapeake, VA, 23321. In addition to their excellent parts and service department, you can find a full inventory of both new and pre-owned Ford vehicles including cars, trucks and SUVs.