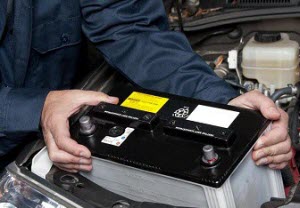 Since they compromise your ability to get from point A to point B, it's no secret that car battery troubles require immediate attention. If you are in need of a battery replacement in Portsmouth, Newport News or Virginia Beach, Cavalier Ford at Chesapeake Square's Service Center is ready and willing to help you get back on the road!
Our service center is stocked with new batteries ready to be installed with precision by our knowledgeable technicians. If it's been a while and you're not sure if your battery needs replacing, check out our dead battery warning signs below to know when to bring your car in for a battery check or replacement. Your battery may need replacing if…
It's Getting Up in Age
Since the average lifespan of a car battery is between three and five years, a battery over the age of three that's still serving you well, requires a checkup to ensure it isn't showing any signs of retiring soon. This is a "better safe than sorry" type of precaution that can give you insight into how much longer you may have before a replacement is absolutely necessary.
It No Longer Holds a Charge
A battery that doesn't sustain a charge could be near its end. This can be seen through a lit check engine light or if you experience electrical issues mid-drive. The radio malfunctioning or your connected devices not working properly could indicate that your battery isn't holding enough of a charge to power all of your on-the-road accessories.
If you feel that your battery could have a low charge, try to evaluate if you kept any of your electronics or car lights on while the car's been off, as even one instance of this could drain the charge.
You Have Trouble Starting the Car
Since it's often the precursor to a car that won't start, the closest to battery failure drivers get is noticing difficulty when attempting to start the car. A car whose engine is having trouble turning over lacks necessary energy from the battery. Hearing an exaggerated crank when trying to get your car going is a sign that your car battery needs a replacement as soon as possible.
There are Odd Under-the-Hood Appearances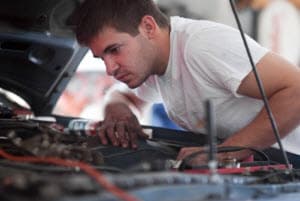 If you notice white accumulation on the terminals of your car battery, or a strange smell brewing under the hood, it could be that your battery has a leak. Sulfuric acid escaping from your car battery puts other parts of your car in danger of decay; if you notice either of these symptoms, it's wise to bring your car in for a battery checkup. 
At Cavalier Ford at Chesapeake Square, we take pride in being a leading service provider for car care in the Portsmouth, VA area, including Newport News and Virginia Beach. Beyond providing you with a comprehensive diagnosis for battery-related issues and reliable car battery replacements, our team of friendly auto technicians have a passion for helping drivers like you with full service for both pre-owned and new vehicles.
Visit Cavalier Ford at Chesapeake Square today to schedule a battery replacement appointment online!